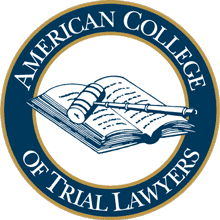 Craig Thomas Merritt has appeared in trials and appeals at every level of the Virginia and United States federal court systems.
Merritt is a graduate of Duke University and the University of North Carolina School of Law. He began practice in Richmond, Virginia as an Assistant Attorney General, where he led the antitrust enforcement unit in Virginia's Office of the Attorney General before entering private practice. He has been active in the organized bar, and has served, among other things, as Chairman of the Virginia State Bar Antitrust and Franchising Law Committee, an instructor in the VSB's mandatory Professionalism Course, and President of the Bar Association of the City of Richmond. His achievements are reflected in his Fellowship in the American College of Trial Lawyers. He is a Fellow of the American Bar Foundation.
Merritt's practice reflects a diverse portfolio of complex litigation matters for both plaintiffs and defendants. His cases have involved antitrust issues such as horizontal agreements (including grand jury representation), monopolization, and state action; patent litigation, where he has served as local co-counsel in infringement disputes over microelectronics, medical devices, and software development; high-dollar contract disputes in the railroad industry; and defense of high-exposure lawyers' professional liability claims. He has worked on class action matters in fields that include antitrust and consumer lending law.
An important aspect of his work is the representation of publishers, broadcasters, and press organizations. He has handled freedom of information and court access litigation, protection of journalists' privileges, and the defense of publishers and broadcasters in defamation actions. He is a member of the Defense Counsel Section of the Media Law Resource Center and received the George Mason Award from the Virginia Chapter of the Society of Professional Journalists. He is a member of the Virginia Communications Hall of Fame.
Merritt is also called upon by professional colleagues and judges to assist in dispute resolution. He has served as a mediator and arbitrator. He has been appointed as a Special Master in the United States District Court for the Eastern District of Virginia, including assignments on cases with domestic and international parties engaged in disputes over intellectual property, trade secret theft, and insurance coverage.
Further information concerning these engagements, subject to applicable confidentiality requirements, are available upon request.
Bar Associations
American College of Trial Lawyers

Fellow, Former Virginia State Chair

American Bar Association

Litigation Section; Antitrust Law Section; Communications Law Forum

American Bar Foundation

Fellow

Virginia State Bar

Antitrust Section; Litigation Section

Federal Bar Association
The Bar Association of the City of Richmond

President, 2012-2013
Education
University of North Carolina at Chapel Hill

-

J.D.

Duke University

-

B.A.
Contact Us
Fill out the contact form or call us at 804.916.1600 to schedule your consultation.